Vendor- Leithauser, Brad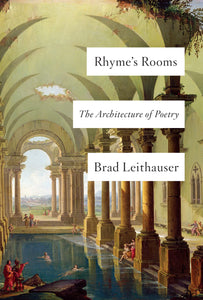 Rhyme's Rooms: The Architecture of Poetry
Leithauser, Brad
Regular price $30.00 Sale
We treasure our greatest poetry, Brad Leithauser reminds us in these pages, "not for its what but its how." In chapters on everything from iambic pentameter to how stanzas are put together to "rhyme and the way we really talk," Leithauser takes a deep dive into that how—the very architecture of poetry. He explains how meter and rhyme work in fruitful opposition ("Meter is prospective; rhyme is retrospective"); how the weirdnesses of spelling in English are a boon to the poet; why an off rhyme will often succeed where a perfect rhyme would not; why Shakespeare and Frost can sound so similar, despite the centuries separating them. And Leithauser is just as likely to invoke Cole Porter, Stephen Sondheim, or Boz Scaggs as he is Chaucer or Milton, Bishop or Swenson, providing enlightening play-by-plays of their memorable lines.

Hereis both an indispensable learning tool and a delightful journey into the art of the poem—a chance for new poets and readers of poetry to grasp the fundamentals, and for experienced poets and readers to rediscover excellent works in all their fascinating detail.
 
Portions of this book have appeared in The New Yorker, The New York Times, and The New York Review of Books.
Hardcover, Feb 22nd 2022