Vendor- Royce, Deborah Goodrich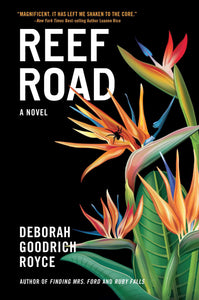 Reef Road
Royce, Deborah Goodrich
Regular price $27.00 Sale
"Reef Road is magnificent. It feels utterly real, a novel of deeply personal context. It swerves between truth and lies—the lies that lead to an even deeper—and more devastating—truth. Though pure fiction, it reads as compellingly as a mixture of memoir and exposé. It has left me shaken to the core. Deborah Goodrich Royce writes with brilliant understanding of the mystery and occasional grace of trauma." —Luanne Rice, New York Times bestselling author

A young woman's life seems perfect until her family goes missing. A writer lives alone with her dog and collects arcane murder statistics. What each of them stands to lose as they sneak around the do-not-enter tape blocking Reef Road beach is exposed by the steady tightening of the cincture encircling them.

In a nod to the true crime that inspired it, Deborah Goodrich Royce's Reef Road probes unhealed generational scars in a wrenching and original work of fiction. It is both stunning and sexy and, like a bystander surprised by a curtain left open, you won't be able to look away.
Hardcover, Jan 10th 2023