Vendor- Rowe, Nellie Mae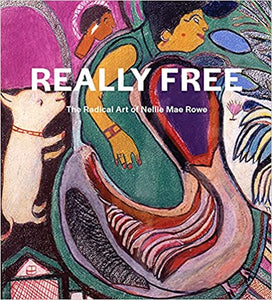 Really Free: The Radical Art of Nellie Mae Rowe
Rowe, Nellie Mae
Regular price $49.95 Sale
During the last 15 years of her life, Nellie Mae Rowe lived on Paces Ferry Road, a major thoroughfare in Vinings, Georgia, and welcomed visitors to her "Playhouse," which she decorated with found-object installations, handmade dolls, chewing-gum sculptures and hundreds of drawings. Rowe created her first works as a child in rural Fayetteville, Georgia, but only found the time and space to reclaim her artistic practice in the late 1960s, following the deaths of her second husband and her longtime employer.

This book offers an unprecedented view of how Rowe cultivated her drawing practice late in life, starting with colorful and at times simple sketches on found materials and moving toward her most celebrated, highly complex compositions on paper. Through photographs and reconstructions of her Playhouse created for an experimental documentary on her life, this publication is also the first to juxtapose her drawings with her art environment.

Nellie Mae Rowe (1900–82) grew up in rural Fayetteville, Georgia. When her Playhouse became an Atlanta attraction, she began to exhibit her art outside of her home, beginning with Missing Pieces: Georgia Folk Art, 1770–1976, a traveling exhibition that brought attention to several Southern self-taught artists, including Rowe and Howard Finster. In 1982, the year she died, Rowe's work received a new level of acclaim, as she was honored in a solo exhibition at Spelman College and included as one of three women artists in the Corcoran Gallery of Art's landmark exhibition .
Hardcover, Nov 30th 2021