Vendor- Shenk, Timothy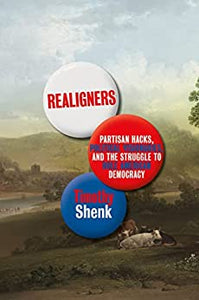 Realigners: Partisan Hacks, Political Visionaries, and the Struggle to Rule American Democracy
Shenk, Timothy
Regular price $30.00 Sale
These days it seems that nobody is satisfied with American democracy. Critics across the ideological spectrum warn that the country is heading toward catastrophe but also complain that nothing seems to change. At the same time, many have begun to wonder if the gulf between elites and ordinary people has turned democracy itself into a myth. The urge to defend the country's foundations and to dismantle them coexist―often within the same people. How did we get here? Why does it feel like the country is both grinding to a halt and falling to pieces?

In Realigners, the historian Timothy Shenk offers an eye-opening new biography of the American political tradition. In a history that runs from the drafting of the Constitution to the storming of the Capitol, Shenk offers sharp pen portraits of signal characters from James Madison and Charles Sumner to Phyllis Schlafly and Barack Obama. The result is an entertaining and provocative reassessment of the people who built the electoral coalitions that defined American democracy―and a guide for a time when figures ranging from Alexandria Ocasio-Cortez to MAGA-minded nationalists seek to turn radical dreams into political realities.

In an era when it seems democracy is caught in perpetual crisis, Realigners looks at earlier moments when popular majorities transformed American life. We've had those moments before. And if there's an escape from the doom loop that American politics has become, it's because we might have one again.
Hardcover, Oct 18th 2022