Vendor- Ellison, Ralph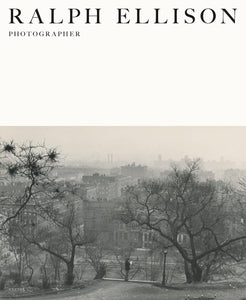 Ralph Ellison: Photographer
Ellison, Ralph
Regular price $60.00 Sale
Ralph Ellison is a leading figure in American literature, hailed for his seminal novel Invisible Man (1952), a breakthrough representation of the American experience and Black everyday life. Lesser known, however, is his lifelong engagement with photography. Photographer is the first book dedicated to Ellison's extensive work in the medium, which spans the 1930s to the '90s.
Throughout his life, photography played multiple roles for Ellison: a hobby, a source of income, a note-taking tool and an artistic outlet. During his formative years in New York City in the 1940s, he keenly photographed his surroundings―at times alongside fellow photographer Gordon Parks―with many images serving as field notes for his writing. In the last decades of his life, as he grappled with his much-anticipated second novel, Ellison turned inward, and he studied his private universe at home with a Polaroid camera. At all times his photography reveals an artist steeped in modernist thinking who embraced experimentation to interpret the world around him, particularly Black life in America. In a 1956 letter to fellow writer Albert Murray, Ellison underscored photography's importance to his creative process: "You know me, I have to have something between me and reality when I'm dealing with it most intensely." Accompanying the photographs in this book are several essays situating Ellison's work within his broader career as a writer, as well an excerpt from his 1977 essay "The Little Man at Chehaw Station: The American Artist and His Audience."
Ralph Ellison was born in Oklahoma City in 1913. His love of music led him to enroll at Booker T. Washington's Tuskegee Institute in Macon County, Alabama, as a music major. In 1936 he visited New York City, where he befriended established authors and intellectuals who encouraged him to pursue a career in writing. He joined the Federal Writers' Project and began contributing essays and short stories for publications such as New Masses, The Negro Quarterly, The New Republic and Saturday Review. By 1945 he had signed a contract to write what was to become Invisible Man (1952); it won the National Book Award in 1953 but remained his only novel published during his lifetime. He published two subsequent collections of essays, Shadow and Act (1964) and Going to the Territory (1986). For many years Ellison worked on a second novel, which he never completed; its central narrative was published posthumously as Three Days Before the Shooting... (2010). Ellison died in 1994.
Hardcover, Apr 18th 2023