Vendor- Conklin, Lydia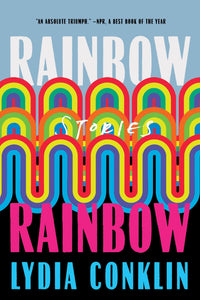 Rainbow Rainbow: Stories
Conklin, Lydia
Regular price $16.95 Sale
A fearless collection of stories that celebrate the humor, darkness, and depth of emotion of the queer and trans experience that's not typically represented: liminal or uncertain identities, queer conception, and queer joy

In this exuberant, prize-winning collection, queer, trans, and gender-nonconforming characters seek love and connection in hilarious and heartrending stories that reflect the complexity of our current moment.

A nonbinary writer on the eve of top surgery enters into a risky affair during the height of COVID. A lesbian couple enlists a close friend as a sperm donor, plying him with a potent rainbow-colored cocktail. A lonely office worker struggling with their gender identity chaperones their nephew to a trans YouTube convention. And in the depths of a Midwestern winter, a sex-addicted librarian relies on her pet ferrets to help resist a relapse at a wild college fair.

Capturing both the dark and lovable sides of the human experience, Rainbow Rainbow establishes debut author Lydia Conklin as a fearless new voice for their generation.
Paperback, june 6th 2023