Vendor- Dychtwald, Ken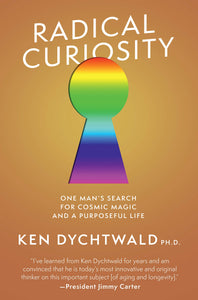 Radical Curiosity: One Man's Search for Cosmic Magic and a Purposeful Life
Dychtwald, Ken
Regular price $28.00 $28.00 Sale
From his working class roots in New Jersey to the "tune in, turn on, drop out" cliffs of Big Sur and the pinnacles of the human potential movement; from launching his company Age Wave and coming to terms with his own aging process, Ken Dychtwald's 
Radical Curiosity
 makes sense of his first 70 years of life, offering invaluable life lessons through the lens of a man constantly seeking truth and self-discovery― giving readers a glimpse into a visionary's extraordinary world, and a guide for claiming a powerful vision of one's own.
Although Dr. Ken Dychtwald is widely regarded as one of the world's foremost experts on aging and longevity, 
Radical Curiosity
 offers an entirely different, and far more personal, perspective. Triggered by the deaths of his parents, and motivated by his cutting-edge research into the importance of leaving a legacy, Dychtwald dives deep to examine the arc and legacies of his own life through fantastic stories, mind-stretching adventures and his unique encounters with many of the world's great leaders and influencers, in order to show readers his keys to a meaningful, magical and purposeful life.
Ultimately, 
Radical Curiosity
 is a call to action, one which demands that we add more curiosity, purpose, interdependence and discovery to our lives, regardless of age.