Vendor- Llewellyn Publications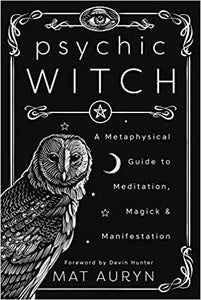 Psychic Witch: A Metaphysical Guide to Meditation, Magick & Manifestation, by Mat Auryn
Llewellyn Publications
Regular price $18.99 Sale
Discover how to be a powerful psychic witch with this book on wielding energy and awakening your psychic senses. Psychic Witch explores the relationship between psychic ability and magick, interweaving them to create a strong foundation for accessing the full potential of your mind, body, and spirit.
Mat Auryn reveals some of his most closely guarded tips, secrets, practices, and meditations so that you can master the perception and manipulation of energy. Featuring over ninety exercises and the inner tools you need to perform magick anywhere and at any time, Psychic Witch helps you tune in to yourself and the subtle energies of the world.
Paperback. February 8, 2020
"..It's a must-have for every Witch's bookshelf."
- Courtney Weber
Author of Brigid and The Morrigan

"This is the foundational book on magical psychic development you didn't know you needed... Students of magic and the occult will benefit greatly from this book."
- Storm Faerywolf
Author of Betwixt & Between and Forbidden Mysteries of Faery Witchcraft

"...Within these pages, Mat Auryn draws upon deep insight and years of experience to present the reader with an immensely practical guide through which they can begin to forge again those old links between the psychic and magical arts."
- Gemma Gary
Author of Traditional Witchcraft - A Cornish Book of Ways
"...Psychic Witch is an excellent and accessible piece of work, and I recommend it highly to anyone looking to deepen their psychic abilities. I think this book will be hugely helpful to countless people regardless of their skill level or experience."
- Aidan Wachter
Author of Six Ways: Approaches & Entries for Practical Magic
"...Packed with lore, strategy, and practical tips, Psychic Witch is a powerhouse of connecting threads in the world of mental magick..."
- David Salisbury
Author of Witchcraft Activism, The Deep Heart of Witchcraft, and A Mystic Guide to Cleansing & Clearing
Mat Auryn (New England) is a witch, writer, psychic, and occult teacher. He is an initiate of Black Rose Witchcraft and a priest in the Sacred Fires Tradition of Witchcraft. He is also a devotee of the Covenant of Hekate founded by Sorita D'Este. Mat has been featured in various magazines, radio shows, books, and other periodicals, such as The Witch's Almanac, DisInfo, The Wild Hunt, Raise the Horns podcast, and Magick magazine. He also writes a blog for Patheos Pagan called For Puck's Sake.