Vendor- Schenwar, Maya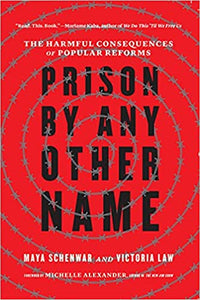 Prison Any Other Name
Schenwar, Maya
Regular price $17.99 Sale
Electronic monitoring. Locked-down drug treatment centers. House arrest. Mandated psychiatric treatment. Data driven surveillance. Extended probation. These are some of the key alternatives held up as cost effective substitutes for jails and prisons. But in a searing, "cogent critique" (Library Journal), Maya Schenwar and Victoria Law reveal that many of these so-called reforms actually weave in new strands of punishment and control, bringing new populations who would not otherwise have been subject to imprisonment under physical control by the state.
Whether readers are seasoned abolitionists or are newly interested in sensible alternatives to retrograde policing and criminal justice policies and approaches, this highly praised book offers "a wealth of critical insights" that will help readers "tread carefully through the dizzying terrain of a world turned upside down" and "make sense of what should take the place of mass incarceration" (The Brooklyn Rail).
With a foreword by Michelle Alexander, Prison by Any Other Name exposes how a kinder narrative of reform is effectively obscuring an agenda of social control, challenging us to question the ways we replicate the status quo when pursuing change, and offering a bolder vision for truly alternative justice practices.
Paperback, Sept 7th 2021