Vendor- Harvard Unversity Press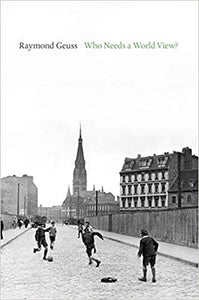 Who Needs a World View?, by Raymond Geuss
Harvard Unversity Press
Regular price $35.00 Sale
We live in a unitary cosmos created and cared for in all its details by a benevolent god. That, for centuries, was the starting point for much philosophical and religious thinking in the West. The task was to accommodate ourselves to that view and restrict ourselves to working out how the pieces fit together within a rigidly determined framework. In this collection of essays, one of our most creative contemporary philosophers explores the problems and pathologies of the habit of overly systematic thinking that we have inherited from this past.
Raymond Geuss begins by making a general case for flexible and skeptical thinking with room for doubt and unresolved complexity. He examines the ideas of two of his most influential teachers―one systematic, the other pragmatic―in light of Nietzsche's ideas about appearance and reality. The chapters that follow concern related moral, psychological, and philosophical subjects. These include the idea that one should make one's life a work of art, the importance of games, the concept of need, and the nature of manifestoes. Along the way, Geuss ranges widely, from ancient philosophy to modern art, with his characteristic combination of clarity, acuity, and wit.
Who Needs a World View? is a provocative and enlightening demonstration of what philosophy can achieve when it abandons its ambitions for completeness, consistency, and unity.
Hardcover May 19, 2020