Vendor- Random House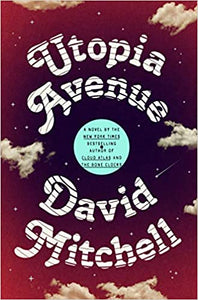 Utopia Avenue, by David Mitchell
Random House
Regular price $30.00 Sale
The long-awaited new novel from the bestselling, prize-winning author of Cloud Atlas and The Bone Clocks.

Utopia Avenue is the strangest British band you've never heard of. Emerging from London's psychedelic scene in 1967, and fronted by folk singer Elf Holloway, blues bassist Dean Moss and guitar virtuoso Jasper de Zoet, Utopia Avenue embarked on a meteoric journey from the seedy clubs of Soho, a TV debut on Top of the Pops, the cusp of chart success, glory in Amsterdam, prison in Rome, and a fateful American sojourn in the Chelsea Hotel, Laurel Canyon, and San Francisco during the autumn of '68.

David Mitchell's kaleidoscopic novel tells the unexpurgated story of Utopia Avenue's turbulent life and times; of fame's Faustian pact and stardom's wobbly ladder; of the families we choose and the ones we don't; of voices in the head, and the truths and lies they whisper; of music, madness, and idealism. Can we really change the world, or does the world change us?
"A genre-bending, time-leaping, world-traveling, puzzle-making, literary magician."—Esquire

"[David Mitchell is] prodigiously daring and imaginative . . . As in the works of Thomas Pynchon and Herman Melville, one feels the roof of the narrative lifted off and oneself in thrall."—Time

"Mitchell is, clearly, a genius. He writes as though at the helm of some perpetual dream machine, can evidently do anything, and his ambition is written in magma across this novel's every page."—The New York Times Book Review

"Mitchell is one of the most electric writers alive. To open a Mitchell book is to set forth on an adventure."—The Boston Globe

"If David Mitchell isn't the most talented novelist of his generation, is there any doubt that he is the most multi-talented?"—The Atlantic 

"We turn to [Mitchell] for brain-tickling puzzle palaces, for character studies and for language."—Chicago Tribune

"One of the most entertaining and thrilling novels I've read in a long time."—NPR
Hardcover Release: July 14, 2020