Vendor- Harvard Business Review Press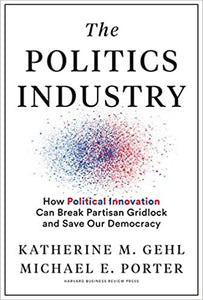 The Politics Industry: How Political Innovation Can Break Partisan Gridlock and Save Our Democracy, by Katherine Gehl and Michael Porter
Harvard Business Review Press
Regular price $30.00 Sale
Our political system in America is broken, right? Wrong.
The truth is, the American political system is working exactly how it is designed to work, and it isn't designed or optimized today to work for us—for ordinary citizens.
Most people believe that our political system is a public institution with high-minded principles and impartial rules derived from the Constitution. In reality, it has become a private industry dominated by a textbook duopoly—the Democrats and the Republicans—and plagued and perverted by unhealthy competition between the players. Tragically, it has therefore become incapable of delivering solutions to America's key economic and social challenges. In fact, there's virtually no connection between our political leaders solving problems and getting reelected.
In The Politics Industry, business leader and path-breaking political innovator Katherine Gehl and world-renowned business strategist Michael Porter take a radical new approach. They ingeniously apply the tools of business analysis—and Porter's distinctive Five Forces framework—to show how the political system functions just as every other competitive industry does, and how the duopoly has led to the devastating outcomes we see today.
Using this competition lens, Gehl and Porter identify the most powerful lever for change—a strategy comprised of a clear set of choices in two key areas: how our elections work and how we make our laws. Their bracing assessment and practical recommendations cut through the endless debate about various proposed fixes, such as term limits and campaign finance reform. The result: true political innovation.
The Politics Industry is an original and completely nonpartisan guide that will open your eyes to the true dynamics and profound challenges of the American political system and provide real solutions for reshaping the system for the benefit of all.
"A revealing perspective on why our $16 billion political industry is failing the American people. The proposed solutions reflect the heart of the American ethos—innovation, determination, courage, and the will to reinvent the status quo." — Howard Schultz, Chairman Emeritus, Starbucks
"Gehl and Porter deliver a stunning indictment of American politics and government. But [they] provide us with much more than analysis and diagnosis. They offer practical reforms to end this destructive political gridlock and dysfunction. This is an impassioned and timely book that deserves wide readership." — Drew Gilpin Faust, former President, Harvard University
"Gehl and Porter are true experts. They provide not just analysis or endless commentary but a plan for real change—all for the better. This is a fresh look at American politics." — Bud Selig, Commissioner Emeritus, Major League Baseball
Hardcover Release June 23, 2020