Vendor- Penguin Press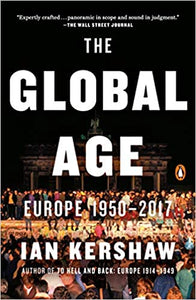 The Global Age: Europe 1950-2017 (paperback)
Penguin Press
Regular price $25.00 Sale
The final chapter in the Penguin History of Europe series from the acclaimed scholar and author of To Hell and Back

After the overwhelming horrors of the first half of the twentieth century, described by Ian Kershaw in his previous book as being 'to Hell and back,' the years from 1950 to 2017 brought peace and relative prosperity to most of Europe. Enormous economic improvements transformed the continent. The catastrophic era of the world wars receded into an ever more distant past, though its long shadow continued to shape mentalities.

Yet Europe was now a divided continent, living under the nuclear threat in a period intermittently fraught with anxiety. There were, by most definitions, striking successes: the Soviet bloc melted away, dictatorships vanished, and Germany was successfully reunited. But accelerating globalization brought new fragilities. The interlocking crises after 2008 were the clearest warnings to Europeans that there was no guarantee of peace and stability, and, even today, the continent threatens further fracturing.

In this remarkable book, Ian Kershaw has created a grand panorama of the world we live in and where it came from. Drawing on examples from all across Europe, The Global Age is an endlessly fascinating portrait of the recent past and present, and a cautious look into our future.
The Penguin History of Europe, Book 9. 
"The sunnier, postwar tale frames The Global Age, the second volume of his expertly crafted history of modern Europe . . . he has produced an accessible scholarly synthesis, panoramic in scope and sound in judgment . . . The Global Age is a heavy but elegant book." -- Wall Street Journal

 "The history of Europe over the last 70 years—as traced and explained brilliantly in Ian Kershaw's magisterial The Global Age: Europe, 1950-2017—should give at least some credence to the argument that things are not as bad as they seem." -- The New York Times Book Review
 
"Kershaw directs his considerable talents to the fall of the Berlin Wall, reunification of Germany, and the 'global exposure' of newly vulnerable Europe . . . this is a terrific roundup by a trusted historian, featuring an extensive bibliography for further reading." —Kirkus Reviews (starred)
 
". . .brilliant . . . Writing a 67-year history of a continent with more than 40 countries is a monumental task, and Kershaw has done so with unflagging narrative drive and fine prose." —Publishers Weekly (starred)
 
"Nearly 20 years after Francis Fukuyama proclaimed that the collapse of the Soviet Empire meant "the end of history," Kershaw shows in this capacious account of Europe since 1950 that history continues to gyrate and perplex . . . An ambitious and thought-provoking chronicle." —Booklist (starred)
 
"Likely to be the basic text on European history for some time. It's a plus that it's well written and tells a fascinating a tale." —Library Journal (starred)

Paperback. April 28, 2020