Vendor- Smith, Kathryn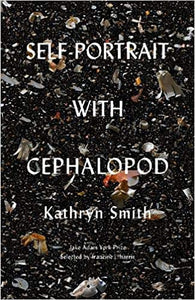 Self-Portrait with Cephalopod
Smith, Kathryn
Regular price $16.00 Sale
Environmental collapse. The betrayals and alliances of the animal world. A father who works in a timber mill. The celebrities in our feeds, the stories we tell ourselves. Loss, never-ending loss. Self-Portrait with Cephalopod―selected by francine j. harris as winner of the Jake Adam York Prize―is an account of being a girl, and then a woman, in the world; of being a living creature on a doomed planet; of being someone who aspires to do better but is torn between attention and distraction.

Here, Kathryn Smith offers observations and anxieties, prophecies and prayers, darkness and light―but never false hope. Instead, she incises our vanities and our hypocrisies, "the bloody hand holding back / the skin," revealing "the world's inner workings, / rubbery and caught between the teeth." These are the poems of someone who feels her and our failings in the viscera, in the bones, and who bears witness to that pain on the page.

Self-Portrait with Cephalopod is an urgent and necessary collection about living in this precarious moment, meditative and resolutely unsentimental.

Paperback February 9, 2021