Vendor- BOA Editions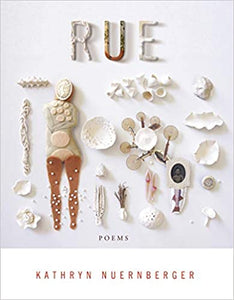 Rue, by Kathryn Neurenberger
BOA Editions
Regular price $17.00 Sale
One of Big Other's "Most Anticipated Small Press Books of 2020"
In this fiercely feminist ecopoetic collection, Kathryn Nuernberger reclaims love and resilience in an age of cruelty.
As the speaker―an artist and intellectual―finds herself living through a rocky marriage in a conservative rural state, she maintains her sense of identity by studying the science and folklore of plants historically used for birth control. Her botanical portraits of common herbs like Queen Anne's lace and pennyroyal are interwoven with lyric biographies of groundbreaking women ecologists whose stories have been left untold in textbooks.
With equal parts righteous fury and tender wisdom, Rue reassesses the past and recontextualizes the present to tell a story about breaking down, breaking through, and breaking into an honest, authentic expression of self.
Kathryn Nuernberger is the author of two previous poetry collections, The End of Pink and Rag & Bone. She has also written a collection of lyric essays, Brief Interviews with the Romantic Past. 
"Rue is a brilliant meditation on corporeality, history, and what it means to move through the natural and material world―be it a field of pennyroyal or the Dollar General―in a female body. Kathryn Nuernberger's astonishing poems present an urgent and devastating discourse, via many-layered gut-punch narratives, of the complex ways in which we are connected to one another that together become a powerful reckoning on female strength and desire in the #MeToo era."
Erika Meitner, author of Holy Moly, Carry Me
"This collection lets you open yourself to the possibility of truth stripped bare of the cultural baggage that keeps us from speaking our minds to strangers and friends and lovers alike. Let Rue bewitch you, let it charm you, as rue strung around the neck to keep your vision sharp and deflect from plague and remedy what ails you. Let it locate what ails you, and extract it with whatever needs to be said."
Jennifer Givhan, author of Rosa's Einstein
April 7. 2020