Vendor- Art / Books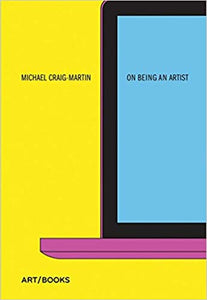 On Being an Artist, by Michael Craig-Martin
Art / Books
Regular price $19.99 Sale
Few living artists can claim to have had the influence of Michael Craig-Martin (born 1941). Celebrated globally for his distinctive art, with numerous retrospectives and honors to his name, he has helped nurture generations of younger artists.

In On Being an Artist, now published in paperback, Craig-Martin reflects with wit and candor on the people, ideas and events that have shaped his professional life. In a series of short, entertaining episodes, he recounts his time studying under Josef Albers at Yale University School of Art alongside Chuck Close, Richard Serra and others; his memories of meeting personal heroes such as Andy Warhol, Jasper Johns and John Cage; and his surreal experience of staking out Christine Keeler at the height of the Profumo scandal.

He recalls, too, his first tentative steps as an artist and emergence as a key figure of early conceptual art, and looks back on his achievements as a teacher at Goldsmiths, where he nurtured two generations of students, among them Damien Hirst and Sarah Lucas, earning himself the sobriquet "the godfather of the YBAs."

Craig-Martin tackles controversial issues such as the fashionability of contemporary art, the enduring status of painting, the relevance of life drawing and practical skills, the qualities of art schools, the role of commercial dealers and the judgment of what is good and bad in art.

More than the life of one of the most creative minds of our age, On Being an Artist provides lesson after valuable lesson to anyone wishing to know what it means and what it takes to be an artist today.
Paperback – August 20, 2019