Vendor- Jones, Stephen Graham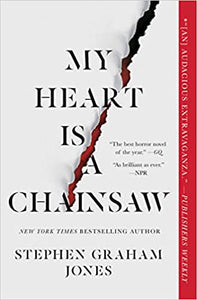 My Heart is a Chainsaw
Jones, Stephen Graham
Regular price $17.99 Sale
Alma Katsu calls My Heart Is a Chainsaw "a homage to slasher films that also manages to defy and transcend genre." On the surface is a story of murder in small-town America. But beneath is its beating heart: a biting critique of American colonialism, Indigenous displacement, and gentrification, and a heartbreaking portrait of a broken young girl who uses horror movies to cope with the horror of her own life.

Jade Daniels is an angry, half-Indian outcast with an abusive father, an absent mother, and an entire town that wants nothing to do with her. She lives in her own world, a world in which protection comes from an unusual source: horror movies…especially the ones where a masked killer seeks revenge on a world that wronged them. And Jade narrates the quirky history of Proofrock as if it is one of those movies. But when blood actually starts to spill into the waters of Indian Lake, she pulls us into her dizzying, encyclopedic mind of blood and masked murderers, and predicts exactly how the plot will unfold.

Yet, even as Jade drags us into her dark fever dream, a surprising and intimate portrait emerges…a portrait of the scared and traumatized little girl beneath the Jason Voorhees mask: angry, yes, but also a girl who easily cries, fiercely loves, and desperately wants a home. A girl whose feelings are too big for her body. My Heart Is a Chainsaw is her story, her homage to horror and revenge and triumph.