Vendor- Knopf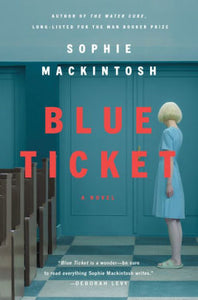 Blue Ticket, by Sophie Mackintosh
Knopf
Regular price $26.95 Sale
Calla knows how the lottery works. Everyone does. On the day of your first bleed, you report to the station to learn what kind of woman you will be. A white ticket grants you marriage and children. A blue ticket grants you a career and freedom. You are relieved of the terrible burden of choice. And once you've taken your ticket, there is no going back. But what if the life you're given is the wrong one?
When Calla, a blue ticket woman, begins to question her fate, she must go on the run. But her survival will be dependent on the very qualities the lottery has taught her to question in herself and on the other women the system has pitted against her. Pregnant and desperate, Calla must contend with whether or not the lottery knows her better than she knows herself and what that might mean for her child.
An urgent inquiry into free will, social expectation, and the fraught space of motherhood, Blue Ticket is electrifying in its raw evocation and desire and riveting in its undeniable familiarity.
Hardcover Release-June 30, 2020