Vendor- Braidotti, Rosi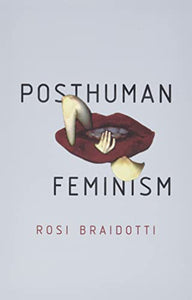 Posthuman Feminism
Braidotti, Rosi
Regular price $22.95 Sale
In a context marked by the virulent return of patriarchal and white supremacist attitudes, a new generation of feminist activists are continuing the struggle: these are very feminist times. But how do these and other movements relate to the contemporary posthuman condition?

In this important new book, Rosi Braidotti examines the implications of the posthuman turn for feminist theory and practice.  She defines the posthuman turn as a convergence between posthumanism on the one hand and post-anthropocentrism on the other, and she examines their complex relationship and joint impact. Braidotti claims that mainstream posthuman scholarship has neglected feminist theory, while in fact feminism is one of the precursors of the posthuman turn, through diverse social movements and political traditions. 
Posthuman Feminism
 is an analytic and creative response to contemporary conditions and a call to action. It highlights the constraints but also the potentialities available to feminist political subjects as they confront the ever-growing injustices of sexism, racism, ecocide and neoliberal capitalism.

This bold new text by a leading feminist philosopher will be of great interest to students and scholars throughout the humanities and social sciences.