Vendor- Shukla, Sheil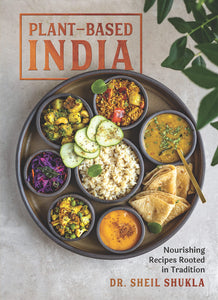 Plant-Based India: Nourishing Recipes Rooted in Tradition
Shukla, Sheil
Regular price $32.50 Sale

India is home to a vibrant tapestry of culinary traditions—and to more vegetarians than anywhere else in the world. It's also where Dr. Sheil Shukla learned to love traditional Gujarāti fare, cooking alongside his adored ba (grandmother) over summers in Mumbai.

During his medical training, Dr. Shukla discovered the power of plant-based nutrition to prevent and manage chronic illness—and so began his mission to reinvent the classic vegetarian dishes of his heritage.

Plant-Based India presents over 100 completely vegan recipes for shāk (spiced vegetable dishes), dāl (legume stews), rotli (flatbreads), bhāt (rice dishes), and more. From a comforting Pālak Tofu that transcends dairy-based paneer, to vegan Nān, festive Navratan Rice, hearty Dāl Makhani, and summery Chocolate Chāi Mousse with Berries, these are recipes from the heart—filled with nourishing ingredients at their seasonal best.