Vendor- Gysin, Brion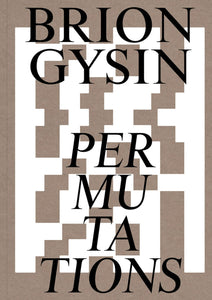 Permutations
Gysin, Brion
Regular price $20.00 Sale
Written between 1958 and 1982, Brion Gysin's "permutation poems" begin with short phrases or sentences whose constituent words are exhaustively rearranged over the course of the text. At first, Gysin wrote these poems manually, although later, in collaboration with programmer Ian Sommerville, he would write permutation poems with the assistance of a computer, making them a very early instance of computer-generated literature. Some of these works were published in books, while others exist only as audio recordings. Many derive from a 1960 BBC radio commission, "The Permutated Poems of Brion Gysin," in which readings of the texts were recorded, cut up, modulated and overlapped.
For the first time, this collection brings together all published and―where transcribable―unpublished versions of each poem, as well as "Cut-Ups Self-Explained," a short text by Gysin that contextualizes the work. The poems are organized in chronological order by first publication or first recording, with further versions of each poem grouped together in chronological order immediately after the initial version. This organization brings distinctions between versions into relief, allowing readers to explore the playful systematicity that undergirds this remarkable body of work.
Brion Gysin (1916–86) was a multidisciplinary artist, author and poet. Born in Taplow, England, he studied painting at the Sorbonne in Paris and immigrated to New York in 1939. In the 1950s he lived in Tangier, where he first met William S. Burroughs. Gysin collaborated often; after returning to Paris, he developed the "cut-up method" with Burroughs, and with engineer Ian Sommerville he created the Dreamachine, a kinetic light sculpture. Gysin would become a mentor for generations of artists, musicians and writers, including David Bowie, John Giorno, Keith Haring, Brian Jones and Genesis Breyer P-Orridge, among others.
Released April 12, 2022