Vendor- Vintage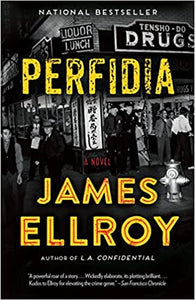 Perfidia, by James Ellroy
Vintage
Regular price $16.99 $9.98 Sale
Los Angeles. December, 1941. America stands at the brink of World War II. War fever and racial hatred grip the city.
 
The hellish murder of a Japanese family summons three men and one woman. LAPD captain William H. Parker is superbly gifted, corrosively ambitious, liquored-up, and consumed by dubious ideology. He is bitterly at odds with Sergeant Dudley Smith—Irish émigré, ex-IRA killer, fledgling war profiteer. Hideo Ashida is a police chemist and the only Japanese on the L.A. cop payroll. Kay Lake is a twenty-one-year-old dilettante looking for adventure. The investigation throws them together and rips them apart. The crime becomes a political storm center that brilliantly illuminates these four driven souls—comrades, rivals, lovers, history's pawns.
 
Here, Ellroy gives us the party at the edge of the abyss and the precipice of America's ascendance. Perfidia is that moment, spellbindingly captured.
James Ellroy was born in Los Angeles in 1948. He is the author of the L.A. Quartet: The Black Dahlia, The Big Nowhere, L.A. Confidential, and White Jazz, and the Underworld U.S.A. Trilogy: American Tabloid, The Cold Six Thousand, and Blood's A Rover. These seven novels have won numerous honors and were international best sellers. Ellroy currently lives in Los Angeles.