Vendor- Meyers, Benjamin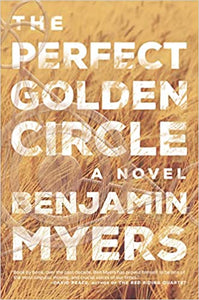 Perfect Golden Circle
Meyers, Benjamin
Regular price $27.99 Sale
Over the course of a burning hot summer, two very different men — Calvert, an ex-soldier traumatized by his experience in the Falklands War, and his affable freind Redbone — set out nightly in a decrepit camper van to undertake an extraordinary project. 
 
Under cover of darkness, they traverse the fields of rural England in secret, forming crop circles in elaborate and mysterious patterns, painstakingly avoiding damaging the wheat to yield designs so intricate that their overnight appearances inspire awe amongst a mystified public.
 
And as the summer wears on, and their designs grow ever more ambitious, the two men find that their work has become a cult international sensation—and that an unlikely and beautiful friendship has taken root as the wheat ripens from green to gold. 
 
But as harvest-time beckons—and as media and the authorities begin to take too much interest in their work—Calvert and Redbone have to race against time to finish the most stunning and original crop circle ever conceived: the Honeycomb Double Helix.
 
Moving and exhilarating, tender and slyly witty, The Perfect Golden Circle is a captivating novel about the futility of war, the descruction of the English countryside, class inequality — ower of beauty to heal trauma and fight power. 
Hardcover, may 17th 2022