Vendor- Lafarge, Daisy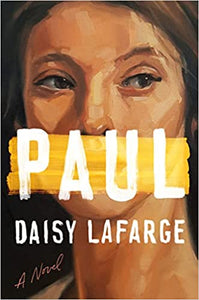 Paul
Lafarge, Daisy
Regular price $26.00 Sale
When personal scandal forces her to leave Paris, Frances, a young British graduate student, travels to southern France one summer to volunteer on a farm. Almost as soon as she arrives, she is pulled into a relationship with the farm's enigmatic owner, Paul, a well-traveled older artist. Alone in a foreign country, drawn into his orbit, and eventually tangled up in his sheets, Frances starts to lose herself in Paul's easy, experienced charm. Yet over the course of three intense weeks, as she discovers more about Paul and the people surrounding him, she realizes that she's caught in an emotional battle of wills that threatens to stifle her voice and crush her autonomy. Coming to terms with what's happening to her and wresting control from an older man with dark secrets of his own are at the heart of this compelling, unsettling novel.
 
By turns the story of how a modern woman finds the inner strength to regain her sense of self and a fascinating exploration of the power dynamics between men and women, 
Paul
 is a deeply human novel that holds a mirror up to many of the issues that people confront today.
Hardcover, Aug 16th