Vendor- Myles, Eileen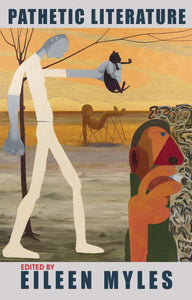 Pathetic Literature
Myles, Eileen
Regular price $34.00 Sale
"Literature is pathetic." So claims Eileen Myles in their bold and bracing introduction to Pathetic Literature, an exuberant collection of pieces ranging from poetry to theater to prose to something in between, all of which explore those so-called "pathetic" or sensitive feelings around which lives are built and revolutions are incited.
Myles first reclaimed the word for a seminar they taught at the University of California San Diego, rescuing it from the derision into which it had slipped and restoring its original meaning of inspiring emotion or feeling, from the Ancient Greek rhetorical method pathos. Their reinvention of "pathetic" formed the bedrock for this anthology, which includes a breathtaking 106 contributors, encompassing titans of global literature like Robert Walser, Jorge Luis Borges, Rumi, and Gwendolyn Brooks, queer icons and revolutionaries like Dodie Bellamy, Samuel R. Delany, and Bob Flanagan, as well as the invigorating newness and excitement of writers on the rise, including Nicole Wallace, Precious Okoyomon, and Will Farris. Creative nonfiction by Karla Cornejo Villavicencio, Jack Halberstam, and Porochista Khakpour rubs shoulders with poetry by Natalie Diaz, Victoria Chang, Lucille Clifton, and Ariana Reines, all joined by prose from Chester Himes, Djuna Barnes, Chris Kraus, and Qiu Miaojin, among so many others. The result is a matchless anthology that is as much an ongoing dialogue as an essential compendium of queer, revolutionary, joyful, and always moving literature.
From confrontations with suffering, embarrassment, and disquiet, to the comforts and consolations of finding one's familiar double in a poem, Pathetic Literature is a swarming taxonomy of ways to think differently and live pathetically on a polarized and fearful planet.
Hardcover, Nov 15th 2022