Vendor- Nan A. Talese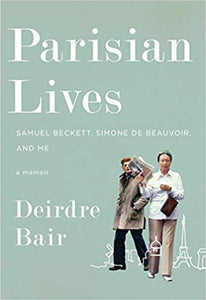 Parisian Lives: Samuel Beckett, Simone de Beauvoir, and Me, by Deirdre Bair
Nan A. Talese
Regular price $29.95 Sale
National Book Award-winning biographer Deirdre Bair explores her fifteen remarkable years in Paris with Samuel Beckett and Simone de Beauvoir, painting intimate new portraits of two literary giants and revealing secrets of the biographical art.

In 1971 Deirdre Bair was a journalist and a recently minted Ph.D. who managed to secure access to Nobel Prize-winning author Samuel Beckett. He agreed that she could be his biographer despite her never having written a biography before. The next seven years of probing conversations, intercontinental research, singular encounters with Beckett's friends, and peculiar cat-and-mouse games resulted in Samuel Beckett: A Biography, which went on to win the National Book Award and propel Bair to her next subject: Simone de Beauvoir.
     Where Beckett had been retiring and elusive, Beauvoir was domineering and all encompassing. Plus, there was a catch: Beauvoir and Beckett despised each other--and lived in the same neighborhood. Bair, who resorted to dodging one subject or the other by hiding out in the great cafés of Paris, learned that what works in terms of process for one biography rarely applies to the next. Her seven-year relationship with the forceful and difficult Beauvoir required a radical change in approach and yielded another groundbreaking literary profile while also awakening Bair to an era of burgeoning feminist consciousness.
     Drawing on Bair's extensive notes from the period, including never-before-told anecdotes and details considered impossible to publish at the time, Parisian Lives gives us an entirely new perspective on the all-too-human side of these legendary thinkers. It is also a warmly personal reflection on the writing life--its compromises, its joys, and its rewards.
"Parisian Lives gives readers insight into a woman and writer undertaking the alternately arduous and thrilling, hilarious and inspiring task of writing the biographies of Samuel Beckett and Simone de Beauvoir. As pure memoir it is transporting, and as tribute to the art of biography it is a crucial guide for those aspiring to take a journey into someone else's life. Bair shows how it should be done, which is to say how she did it."
—Mary Gabriel, author of Ninth Street Women

"A totally compelling account by a master biographer of the joys and frustrations of writing another's life. While some of her revelations are explosive, Bair manages to present her legendary subjects, Samuel Beckett and Simone de Beauvoir, as poignantly human. This groundbreaking work returns us nostalgically to a literary Paris that teems with intrigue and humor." 
—Rosemary Sullivan, author of Stalin's Daughter
 
"By turns scholarly and salacious, Bair has loosened decades of polite tongue-biting to write the backstory in what she calls a 'bio-memoir' of two influential writers . . . No matter her subject, Bair, a generous and graceful writer, has followed her dictum in writing biographies: 'those of us who wrote literary biographies should ensure that our readers ended our books by wanting to turn immediately to our subjects' writing.' Bair's exhaustively detailed and lively memoir also serves as a solid study in the art of biography."
—Publishers Weekly, starred review
DEIRDRE BAIR received the National Book Award for Samuel Beckett: A Biography. Her biographies of Simone de Beauvoir and Carl Jung were finalists for the Los Angeles Times Book Prize, and the Simone de Beauvoir biography was chosen by The New York Times as a Best Book of the Year. Her biographies of Anaïs Nin and Saul Steinberg were both New York Times Notable Books. Her most recent book is Al Capone: His Life, Legacy, and Legend.
Hardcover Released November 12, 2019