Vendor- Soho-Teen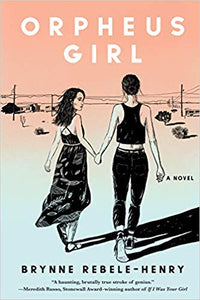 Orpheus Girl, by Brynne Rebele-Henry
Soho-Teen
Regular price $18.99 Sale
In her debut novel, award-winning poet Brynne Rebele-Henry re-imagines the Orpheus myth as a love story between two teenage girls who are sent to conversion therapy after being caught together in an intimate moment.

Abandoned by a single mother she never knew, 16-year-old Raya—obsessed with ancient myths—lives with her grandmother in a small conservative Texas town. For years Raya has fought to hide her feelings for her best friend and true love, Sarah. When the two are outed, they are sent to Friendly Saviors: a re-education camp meant to "fix" them and make them heterosexual. Upon arrival, Raya vows to assume the role of Orpheus, to return to the world of the living with her love—and after she, Sarah, and the other teen residents are subjected to abusive and brutal "treatments" by the staff, Raya only becomes more determined to escape.
 
In a haunting voice reminiscent of Sylvia Plath and the contemporary lyricism of David Levithan, Brynne Rebele-Henry weaves a powerful inversion of the Orpheus myth informed by the disturbing real-world truths of conversion therapy. Orpheus Girl is a story of dysfunctional families, trauma, first love, heartbreak, and ultimately, the fierce adolescent resilience that has the power to triumph over darkness and ignorance.

CW: There are scenes in this book that depict self-harm, homophobia, transphobia, and violence against LGBTQ characters.
"An unflinching look at exclusion, hate and resilience."
—Ms.

"A testament to true love and resiliency . . . it's a joy to read the elegiac rhythm she has so deftly created with ever-turning, dynamic language."
—Counterclock Journal

"A haunting story about exploring what it means to define your true self as those around you try actively to destroy it . . . the novel is powerful and will speak to anyone who has tried desperately to fit in, only to realize that's not what will make them feel complete."
—Booklist

"A bold, graphic tale about the costs of exclusion."
—Kirkus Reviews

"Deeply emotional, this devastating story is lyrical and haunting."
—School Library Journal
Brynne Rebeele-Henry was born in 1999. Her poetry and fiction have appeared in The American Poetry Review, Rookie, and Blackbird, among other places. Her writing has won numerous awards, including the Louise Louis/Emily F. Bourne Award from the Poetry Society of America. She has two books of poetry: Fleshgraphs and Autobiography of a Wound, which won the AWP Donald Hall Prize for Poetry and was a finalist for the Audre Lorde Award for Lesbian Poetry. Orpheus Girl is her first novel.
October 8, 2019