Vendor- Knopf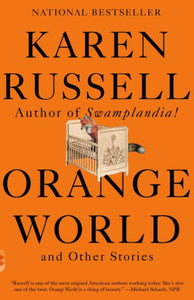 Orange World and Other Stories, Karen Russell
Knopf
Regular price $16.00 Sale
Karen Russell's comedic genius and mesmerizing talent for creating outlandish predicaments that uncannily mirror our inner lives is on full display in these eight exuberant, arrestingly vivid, unforgettable stories. 

In "Bog Girl," a young man falls in love with a two-thousand-year-old girl that he's extracted from a mass of peat in a Northern European bog. In "The Prospectors," two opportunistic young women fleeing the Great Depression strike out for new territory, and find themselves fighting for their lives. And in the brilliant, hilarious title story, a new mother desperate to ensure her infant's safety strikes a diabolical deal, agreeing to breastfeed the devil in exchange for his protection. 

The landscape in which these stories unfold is a feral, slippery, purgatorial space, bracketed by the void--yet within it Russell captures the exquisite beauty and tenderness of ordinary life. Orange World is a miracle of storytelling from a true modern master.
"Russell's particular gift lies in taking themes that are close to universal and presenting them in stories whose strangeness comes to seem entirely natural, even necessary."
—The New York Times Book Review

"Marvelous. . . . Startlingly inventive stories which confirm Russell's status as master of the slipstream."
—San Francisco Chronicle

"Astonishing. . . . Russell seems the most natural storyteller alive, so completely does she give herself to premises that might undo a lesser writer."
—New York Review of Books

"A stunning collection. . . . It'll get under your skin in the best possible way." 
—Good Housekeeping
Paperback release: May 5, 2020