Vendor- Oliver, Jamie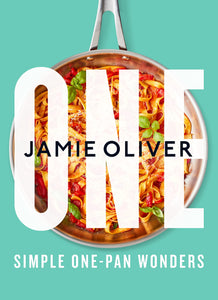 One: Simple One-Pan Wonders
Oliver, Jamie
Regular price $35.00 Sale
In ONE, Jamie Oliver will guide you through over 120 recipes for tasty, fuss-free and satisfying dishes cooked in just one pan. What's better: each recipe has just eight ingredients or fewer, meaning minimal prep (and cleaning up) and offering maximum convenience.

Packed with budget-friendly dishes you can rustle up any time, ONE has everything from delicious work from home lunches to quick dinners the whole family will love; from meat-free options to meals that will get novice cooks started.

With chapters including . . .

· Veggie Delights
· Celebrating Chicken
· Frying Pan Pasta
· Batch Cooking

Simple dishes like Juicy Tahini Chicken and Hassleback Eggplant Pie and will soon become your new favorites.

There are plenty more no-fuss, tasty recipes that make ONE sit alongside 5 Ingredients and Ultimate Veg as your go-to kitchen companions.
hardcover