Vendor- Applegate, Katherine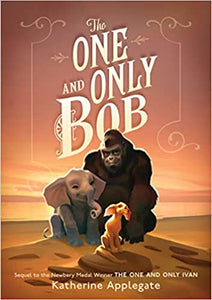 One and Only Bob
Applegate, Katherine
Bob sets out on a dangerous journey in search of his long-lost sister with the help of his two best friends, Ivan and Ruby. As a hurricane approaches and time is running out, Bob finds courage he never knew he had and learns the true meaning of friendship and family.
Bob, Ivan, and Ruby have touched the hearts of millions of readers, and their story isn't over yet. Catch up with these beloved friends before the star-studded film adaptation of The One and Only Ivan hits theaters in August 2020!
One and Only Bob is an instant #1 New York Times bestseller, embraced by new and old fans of Katherine Applegate's beloved One and Only Ivan. Great for summer reading or anytime! A Today show pick for "25 children's books your kids and teens won't be able to put down this summer!"
In the tradition of timeless stories like Charlotte's Web and Stuart Little, Katherine Applegate blends humor and poignancy to create an unforgettable story of friendship, family, and hope.
The One and Only Bob features first-person narrative; author's use of literary devices (personification, imagery); and story elements (plot, character development, perspective).
This acclaimed middle grade novel is an excellent choice for tween readers in grades 5 to 8, for independent reading, homeschooling, and sharing in the classroom.
Paperback, May 3rd 2022