Vendor- Connor, David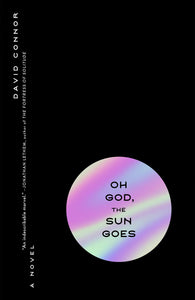 Oh God, the Sun Goes
Connor, David
Regular price $18.99 Sale

The sun has disappeared from the sky. No one can explain where it has gone, but one wayward traveler is determined to try. As our unnamed narrator begins his odyssey across the parched landscapes of the American Southwest, he is drawn into a web of illusion and mystery, a shifting astral mindscape that shimmers with the aftermath of loss—and the promise of redemption.

Oh God, the Sun Goes is a hallucinatory and deadpan picaresque that suddenly swerves into a love story of soaring poignance. Truly "the stuff that dreams are made of" – or maybe nightmares?

Apocalyptic, mesmerizing, and utterly unique, Oh God, the Sun Goes introduces readers to a young and keenly inventive mind.

4 one of a kind illustrations within and on the outside a cool holographic foil stamp cover.
Paperback, Aug 1st 2023