Vendor- Addonizio, Kim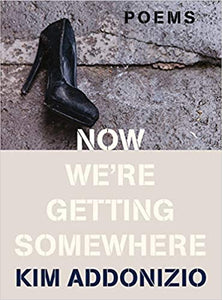 Now We're Getting Somewhere
Addonizio, Kim
Regular price $26.95 Sale
Kim Addonizio's sharp and irreverent eighth volume, Now We're Getting Somewhere, is an essential companion to your practice of the Finnish art of kalsarikännit―drinking at home, alone in your underwear, with no intention of going out. Imbued with the poet's characteristic precision and passion, the collection charts a hazardous course through heartache, climate change, dental work, Outlander, semiotics, and more.
Combatting existential gloom with a wicked, seductive energy, Addonizio investigates desire, loss, and the madness of contemporary life. She calls out to Walt Whitman and John Keats, echoes Dorothy Parker, and finds sisterhood with Virginia Woolf.
Sometimes confessional, sometimes philosophical, these poems weave from desolation to drollery and clamor with raucous imagery: an insect in high heels, a wolf at an uncomfortable party, a glowing and self-serious guitar.
A poet whose "voice lifts from the page, alive and biting" (Sky Sanchez, San Francisco Book Review), Addonizio reminds her reader, "if you think nothing & / no one can / listen I love you joy is coming."
Hardcover March 16, 2021