Vendor- Tyndall, Nita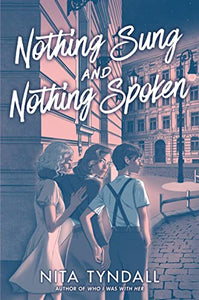 Nothing Sung and Nothing Spoken
Tyndall, Nita
Regular price $17.99 Sale
For fans of Ruta Sepetys and Malinda Lo, a heart-wrenching queer historical YA romance set in the Swing Youth movement of World War II Berlin
Charlotte Kraus would follow Angelika Haas anywhere. Which is how she finds herself in an underground club one Friday night the summer before World War II, dancing to contraband American jazz and swing music, suddenly feeling that anything might be possible.
Unable to resist the allure of sharing this secret with Geli, Charlie returns to the club again and again, despite the dangers of breaking the Nazi Party's rules. Soon, terrified by the tightening vise of Hitler's power, Charlie and the other Swingjugend are drawn to larger and larger acts of rebellion. But the war will test how much they are willing to risk—and to lose.
From the critically acclaimed author of Who I Was with Her, this beautifully told story of hope, love, and resistance will captivate readers of Girl in the Blue Coat and Last Night at the Telegraph Club.
Hardcover, Oct 18th 2022