Vendor- Lange, Norah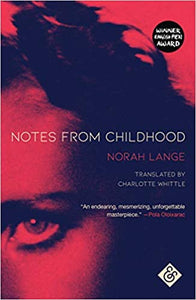 Notes From Childhood
Lange, Norah
Regular price $15.95 Sale
A series of luminous vignettes describe the childhood of Argentina's rediscovered modernist writer. Self-contained, interconnected fragments begin with her family's departure to Mendoza in 1910 and end with their return to Buenos Aires and the death of her father in 1915.
Lange's notes tell intimate, half-understood stories from the seemingly peaceful realm of childhood, a realm inhabited by an eccentric narrator searching for clues on womanhood and her own identity. She watches: her pubescent older sister, bathing naked in the moonlight; the death of a horse; and herself, a changeable and untimely girl. How she cried, when lifted onto a table and dressed as a boy, and how she laughed, climbing onto the kitchen roof in men's clothing and throwing bricks to announce her performance.
Lange makes her domestic setting into a laboratory where strangeness and eroticism combine in a delicate, daring flashes of literary brilliance.
Paperback May 4, 2021