Vendor- Prusa, Carolyn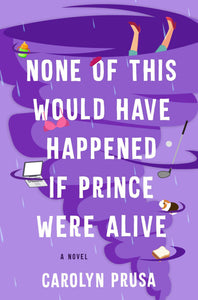 None of This Would Have Happened If Prince Were Alive
Prusa, Carolyn
Regular price $27.00 Sale

Ramona's got a bratty boss, a toddler teetering through toilet training, a critical mom who doesn't mind sharing, and oops—a cheating husband. That's how a Category Four hurricane bearing down on her life in Savannah becomes just another item on her to-do list. In the next forty-eight hours she'll add a neighborhood child and the class guinea pig named Clarence Thomas to her entourage as she struggles to evacuate town.

Ignoring the persistent glow of her minivan's check engine light, Ramona navigates police check points, bathroom emergencies, demands from her boss, and torrential downpours while fielding calls and apology texts from her cheating husband and longing for the days when her life was like a Prince song, full of sexy creativity and joy.

Thoroughly entertaining and completely relatable, None of This Would Have Happened if Prince Were Alive is the hilarious, heartwarming story of a woman up to her elbows in calamities and about to drive off the brink of the rest of her life.
Hardcover, Nov 22nd 2022