Vendor- Kaikini, Jayant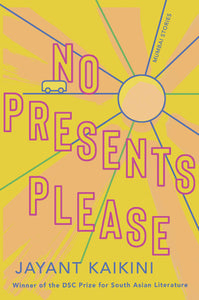 No Presents Please
Kaikini, Jayant
Regular price $16.95 $16.95 Sale
Jayant Kaikini's gaze takes in the people in the corners of Mumbai―a bus driver who, denied vacation time, steals the bus to travel home; a slum dweller who catches cats and sells them for pharmaceutical testing; a father at his wit's end who takes his mischievous son to a reform institution.
In this metropolis, those who seek find epiphanies in dark movie theaters, the jostle of local trains, and even in roadside keychains and lost thermos flasks. Here, in the shade of an unfinished overpass, a factory-worker and her boyfriend browse wedding invitations bearing wealthy couples' affectations―"no presents please"―and look once more at what they own.
Translated from the Kannada by Tejaswini Niranjana, these resonant stories, recently awarded the DSC Prize for South Asian Literature, take us to photo framers, flower markets, and Irani cafes, revealing a city trading in fantasies while its strivers, eating once a day and sleeping ten to a room, hold secret ambitions close.
Winner of the Atta Galatta–Bangalore Literature Lifetime Achievement Award for writing in Kannada

Praise for No Presents Please
Winner of the DSC Prize for South Asian Literature
Joint winner of the Atta Galatta-Bangalore Literature Festival Book Prize
Published July 28, 2020
Jayant Kaikini is a Kannada poet, short-story writer, columnist and playwright, as well as an award-winning lyricist, script and dialogue writer for Kannada films. He won his first Karnataka Sahitya Akademi award at the age of nineteen in 1974, and has since won the award three times, in addition to winning various other awards in India, including the first Kusumagraj Rashtriya Bhasha Sahitya Puraskar.
No Presents Please
, his volume of selected stories, is the first book in translation to have won the DSC Prize for South Asian Literature.