Vendor- Hayden, Georgina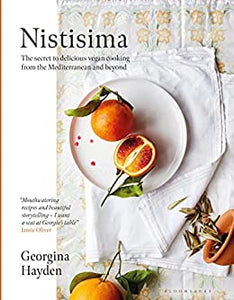 Nistisima: The Secret to Delicious Vegan Cooking from the Mediterranean and Beyond
Hayden, Georgina
Regular price $35.00 Sale
In this beautiful cookbook filled with stories, tips, tricks, and striking four-color photography, Georgina Hayden looks to Greece, Cyprus, and beyond to share delicious, almost entirely natural dishes. Whether you're vegan, vegetarian, or simply interested in plant-based eating, you will enjoy these flavor-packed foods which draw from the tradition of 
nistisima
, a Greek word that translates to Lenten, or fasting--often used in relation to animal products. Georgian Hayden explores the history and culture of 
nistisima

 
to introduce home cooks to this new kind of vegan cooking which has been honed over centuries of religious practice. From bread to salads, dips, and pickles, to harvest cooking with seasonal vegetables, to cakes, puddings, and sweets, 
Nistisima
 features recipes for smokey red pepper and walnut flatbread; roast tomato, orzo, and rocket salad with roasted garlic dressing; fresh coriander and olive potatoes; broadbean falafel; and more nutritious, simple dishes more centered around Earth's bounty.

A must-have for every plant-focused cookbook shelf, 
Nistisima
 is an exciting approach to modern, environmentally equitable vegan cooking influenced by a celebrated tradition.