Vendor- Farrar, Straus and Giroux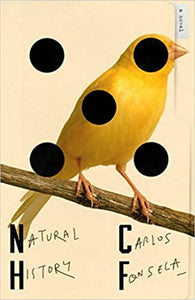 Natural History by Carlos Fonseca
Farrar, Straus and Giroux
Regular price $27.00 Sale
Just before the dawn of the new millennium, a curator at a New Jersey museum of natural history receives an unusual invitation from a celebrated fashion designer. She shares the curator's fascination with the hidden forms of the animal kingdom―with camouflage and subterfuge―and she proposes that they collaborate on an exhibition, the form of which itself remains largely obscure, even as they enter into a strange relationship marked by evasion and elision.

Seven years later, after the death of the designer, the curator recovers the archive of their never-completed project. During a long night of insomnia, he finds within the archive a series of clues to the true story of the designer's family, a mind-bending puzzle that winds from Haifa, Israel, to bohemian 1970s New York to the Latin American jungle. On the way, he discovers a cast of characters whose own fixations interrogate the unstable frontiers between art, science, politics, and religion: an aging photographer, living nearly alone in an abandoned mining town where subterranean fires rage without end, who creates models of ruined cities; a former model turned conceptual artist―and a defendant in a trial over the very nature and purpose of art; a young indigenous boy who has received a vision of the end of the world. Reality is a curtain, as the curator realizes, and to draw it back is to reveal the theater of obsession.

Natural History is the portrait of a world trapped between faith and irony, between tragedy and farce. A defiantly contemporary and impressively ambitious novel in the tradition of Italo Calvino and Ricardo Piglia, it confirms Carlos Fonseca as one of the most daring writers of his generation.
Hardcover – July 14, 2020