Vendor- Craig, Charmaine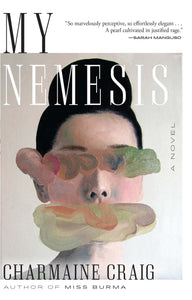 My Nemesis
Craig, Charmaine
Regular price $26.00 Sale
Tessa is a successful writer who develops a friendship, first by correspondence and then in person, with Charlie, a ruggedly handsome philosopher and scholar based in Los Angeles. Sparks fly as they exchange ideas about Camus and masculine desire, and their intellectual connection promises more—but there are obstacles to this burgeoning relationship.
While Tessa's husband Milton enjoys Charlie's company on his visits to the East Coast, Charlie's wife Wah is a different case, and she proves to be both adversary and conundrum to Tessa. Wah's traditional femininity and subservience to her husband strike Tessa as weaknesses, and she scoffs at the sacrifices Wah makes as adoptive mother to a Burmese girl, Htet, once homeless on the streets of Kuala Lumpur. But Wah has a kind of power too, especially over Charlie, and the conflict between the two women leads to a martini-fueled declaration by Tessa that Wah is "an insult to womankind." As Tessa is forced to deal with the consequences of her outburst and considers how much she is limited by her own perceptions, she wonders if Wah is really as weak as she has seemed, or if she might have a different kind of strength altogether.
Compassionate and thought-provoking, My Nemesis is a brilliant story of seduction, envy, and the ways we publicly define and privately deceive ourselves today.
Hardcover, Feb 7th 2023