Vendor- W.W. Norton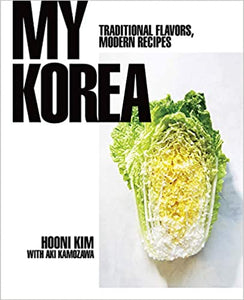 My Korea: Traditional Flavors, Modern Recipes, by Hooni Kim
W.W. Norton
Regular price $40.00 Sale
A Michelin-starred chef known for defining Korean food in America brings a powerful culinary legacy into your kitchen.
Simple rice cakes drenched in a spicy sauce. Bulgogi sliders. A scallion pancake (pajeon) the New York Times calls "the essential taste of Korean cuisine." For years Hooni Kim's food has earned him raves, including a Michelin Star―the first ever awarded to a Korean restaurant―for Danji. His background in world-class French and Japanese kitchens seamlessly combines with his knowledge of the techniques of traditional Korean cuisine to create uniquely flavorful dishes.
My Korea, his long-awaited debut cookbook, introduces home cooks to the Korean culinary trinity: doenjang, ganjang, and gochujang (fermented soybean paste, soy sauce, and fermented red chili paste). These key ingredients add a savory depth and flavor to the 90 recipes that follow, from banchan to robust stews. His kimchis call upon the best ingredients and balance a meal with a salty, sour, and spicy kick. Elevated classics include one-bowl meals like Dolsot Bibimbap (Sizzling-Hot Stone Bowl Bibimbap), Haemul Sundubu Jjigae (Spicy Soft Tofu Stew with Seafood), and Mul Naengmyeon (Buckwheat Noodles in Chilled Broth). Dishes meant for sharing pair well with soju or makgeolli, an unfiltered rice beer, and include Budae Jjigae (Spicy DMZ Stew) and Fried Chicken Wings.
Complete with thoughtful notes on techniques and sourcing and gorgeous photography from across Korea, this cookbook will be an essential resource for home cooks, a celebration of the deliciousness of Korean food by a master chef.
100 color photographs
"The range and finesse of Korean home cooking are at the heart of his precise, illuminating new cookbook…which moves just as easily from jjajangmyeon―the everyday noodles dressed in a shimmering, meaty black-bean sauce―to more delicate, complex dishes like homemade tofu with perilla soy sauce."
- Tejal Rao, New York Times

"In My Korea, Kim doesn't pull any punches with flavor in a way that would put off a seasoned cook of Korean cuisine, but he also introduces every ingredient and technique with enough patience and encouragement to entice someone who has never cooked a spicy tofu stew or snacked on kimchi."
- Lauren Joseph, Epicurious

"Hooni Kim's debut cookbook, My Korea: Traditional Flavors, Modern Recipes, is part cookbook, part autobiography...Throughout, Kim talks about the importance of jung sung, a Korean word for care, which also translates into cooking with heart and devotion. The chef's jung sung in making this book is apparent as Kim provides foundational knowledge to make readers aware of Korean culture, beyond just knowing how to cook Korean food."
- Eater

"A passionate, personal story of an immigrant's sense of identity and belonging through food. Every page is vibrant and inspirational, and you'll want to eat and cook every recipe."
- Anita Lo, chef and author of Solo

"Finally, a true Korean cookbook filled with recipes that are unapologetically traditional and incredibly well researched. Hooni Kim is not just an amazing chef―he is someone who is creating an essential archive of Korean food for generations to come. If you want to know about Korean cuisine, this is the book to own!"
- Edward Lee, chef, 610 Magnolia, and author of Buttermilk Graffiti
Chef Hooni Kim, the first Michelin-starred chef in Korean cuisine, trained at Daniel and Masa before opening Danji and Hanjan. Born in Seoul, he divides his time between New York City and Korea, where he is the founder of Yori Chunsa, a nonprofit that trains orphans to become cooks.