Vendor- Hayden, Sally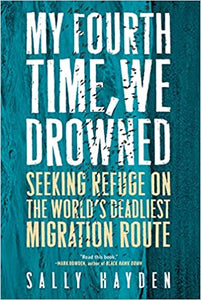 My Fourth Time, we Drowned: Seeking Refuge on the World's Deadliest Migration Route
Hayden, Sally
Regular price $29.99 Sale
Reporter Sally Hayden was at home in London when she received a message on Facebook: "Hi sister Sally, we need your help." The sender identified himself as an Eritrean refugee who had been held in a Libyan detention center for months, locked in one big hall with hundreds of others. Now, the city around them was crumbling in a scrimmage between warring factions, and they remained stuck, defenseless, with only one remaining hope: contacting her. Hayden had inadvertently stumbled onto a human rights disaster of epic proportions.

From this single message begins a staggering account of the migrant crisis across North Africa, in a groundbreaking work of investigative journalism. With unprecedented access to people currently inside Libyan detention centers, Hayden's book is based on interviews with hundreds of refugees and migrants who tried to reach Europe and found themselves stuck in Libya once the EU started funding interceptions in 2017.

It is an intimate portrait of life for these detainees, as well as a condemnation of NGOs and the United Nations, whose abdication of international standards will echo throughout history. But most importantly, My Fourth Time, We Drowned shines a light on the resilience of humans: how refugees and migrants locked up for years fall in love, support each other through the hardest times, and carry out small acts of resistance in order to survive in a system that wants them to be silent and disappear.
Hardcover, Mar 29th 2022