Vendor- Rodinson, Maxime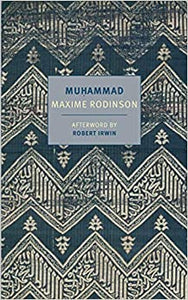 Muhammad
Rodinson, Maxime
Regular price $18.95 Sale
Maxime Rodinson, both a maverick Marxist and a distinguished professor at the Sorbonne, first published his biography of Muhammad in 1960. The book, a classic in its field, has been widely read ever since. Rodinson, though deeply versed in scholarly studies of the Prophet, does not seek to add to it here but to introduce Muhammad, first of all, as "a man of flesh and blood" who led a life of extraordinary drama and shaped history as few others have. Equally, he seeks to lay out an understanding of Muhammad's legacy and Islam as what he called an ideological movement, similar to the universalist religions of Christianity and Buddhism as well as the secular movement of Marxism, but possessing a singular commitment to "the deeply ingrained idea that Islam offers not only a path to salvation but (for many, above all) the ideal of a just society to be realized on earth." 

Rodinson's book begins by introducing the specific land and the larger world into which Muhammad was born and the development of his prophetic calling. It then follows the steps of his career and the way his leadership gave birth to a religion and a state. A final chapter considers the world as Islam has transformed it.
Translated from the French by Anne Carter  
Afterword by Robert Irwin  
Paperback 3/2/21
Maxime Rodinson (1915–2004) was the child of Jewish Communists who fled Tsarist Russia for France at the end of the nineteenth century. Rodinson left school at twelve to support his struggling family by working as an errand boy, but he continued his education in his spare time and in 1932 passed the entrance exam for the École des Langues Orientales Vivantes in Paris, where he studied Arabic, Turkish, and Amharic in preparation for a diplomatic career. During the Second World War, Rodinson worked for the Institut Français in Syria and in the French Department of Antiquities in Lebanon, where he remained until 1947; in 1944, he learned of his parents' deaths at Auschwitz the year before. Returning to France, he oversaw the Islamic section of the Bibliothèque Nationale in Paris. In 1955, Rodinson became the director of studies at the École Pratique des Hautes Études at the Sorbonne, where he was subsequently a professor of Old Ethiopic and South Arabian languages, a post he held until his retirement in 1983. He joined the Communist Party in 1937 and was expelled in 1958, in the aftermath of Khrushchev's secret speech denouncing Stalin's rule, but remained a Marxist. Among his works are Islam and Capitalism; Marxism and the Muslim World; and Cult, Ghetto, and State: The Persistence of the Jewish Question.