Vendor- dudley, Steven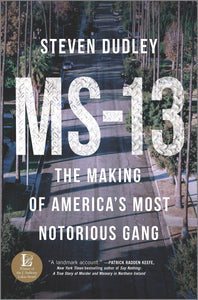 MS-13: The Making of America's Most Notorious Gang
dudley, Steven
Regular price $28.99 $28.99 Sale
The MS-13 was born from war. In the 1980s, El Salvador was enmeshed in a bloody civil conflict. To escape the guerrilla assaults and death squads, many fled to the US and settled in Los Angeles. Among them were Alex and his brother.

There, as a survival instinct, Alex and a small number of Salvadoran immigrants formed a group called the Mara Salvatrucha Stoners, a relatively harmless social network bound by heavy metal music and their Salvadoran identity. But later, as they brushed against established local gangs, the group took on a harder edge, selling drugs, stealing cars and killing rivals who threatened their territories. As authorities cracked down, gang members like Alex were incarcerated and deported. But in the prison system, the group only grew stronger, and in Central America, the gang multiplied, eventually spreading to a half-dozen nations in two continents.

Today, MS-13 is one of the most infamous street gangs on earth, with an estimated ten thousand members operating in dozens of states and linked to thousands of grisly murders each year in the US and abroad. But it is also misunderstood—less a drug cartel and more a hand-to-mouth organization whose criminal economy is based mostly on small-time extortion schemes and petty drug dealing. Journalist and longtime organized crime investigator Steven Dudley brings readers inside the nefarious group to tell a larger story of how a flawed US and Central American policy, and the exploitative and unequal economic systems helped foster the gang and sustain it. Ultimately, MS-13 is the story of the modern immigrant and the perennial battle to escape a vortex of poverty and crime, as well as the repressive, unequal systems that feed these problems.
Released September 8, 2020