Vendor- Griffiths, Paul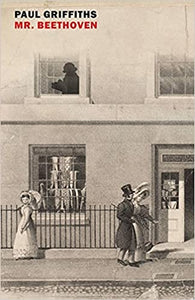 Mr. Beethoven
Griffiths, Paul
Regular price $17.95 Sale
It is a matter of historical record that in 1823 the Handel and Haydn Society of Boston (active to this day) sought to commission Beethoven to write an oratorio. The premise of Paul Griffiths's ingenious novel is that Beethoven accepted the commission and traveled to the United States to oversee its first performance.
Griffiths grants the composer a few extra years of life and, starting with his voyage across the Atlantic and entry into Boston Harbor, chronicles his adventures and misadventures in a new world in which, great man though he is, he finds himself a new man.
Relying entirely on historically attested possibilities to develop the plot, Griffiths shows Beethoven learning a form of sign language, struggling to rein in the uncertain inspiration of Reverend Ballou (his designated librettist), and finding a kindred spirit in the widowed Mrs. Hill, all the while keeping his hosts guessing as to whether he will come through with his promised composition. (And just what, the reader also wonders, will this new piece by Beethoven turn out to be?)
The book that emerges is an improvisation, as virtuosic as it is delicate, on a historical theme.