Vendor- Lewis, Matthew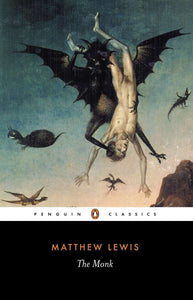 Monk
Lewis, Matthew
Regular price $11.00 $11.00 Sale
Savaged by critics for its supposed profanity and obscenity, and bought in large numbers by readers eager to see whether it lived up to its lurid reputation, The Monk became a succès de scandale when it was published in 1796 – not least because its author was a member of parliament and only twenty years old. It recounts the diabolical decline of Ambrosio, a Capuchin superior, who succumbs first to temptations offered by a young girl who has entered his monastery disguised as a boy, and continues his descent with increasingly depraved acts of sorcery, murder, incest and torture. Combining sensationalism with acute psychological insight, this masterpiece of Gothic fiction is a powerful exploration of how violent and erotic impulses can break through the barriers of social and moral restraint.
This edition is based on the first edition of 1796, which appeared before Lewis's revisions to avoid charges of blasphemy. In his introduction, Christopher MacLachlan discusses the novel's place within the Gothic genre, and its themes of sexual desire and the abuse of power.

For more than seventy years, Penguin has been the leading publisher of classic literature in the English-speaking world. With more than 1,700 titles, Penguin Classics represents a global bookshelf of the best works throughout history and across genres and disciplines. Readers trust the series to provide authoritative texts enhanced by introductions and notes by distinguished scholars and contemporary authors, as well as up-to-date translations by award-winning translators.