Vendor- Wuehle, Candice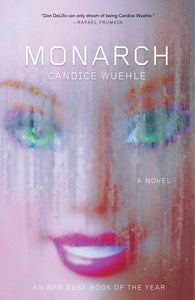 Monarch
Wuehle, Candice
Regular price $16.95 Sale
After waking up with a strange taste in her mouth and mysterious bruises, former child pageant star Jessica Clink unwittingly begins an investigation into a nefarious deep state underworld. Equipped with the eccentric education of her father, Dr. Clink (a professor of Boredom Studies and the founder of an elite study group known as the Devil's Workshop), Jessica uncovers a disquieting connection between her former life as a beauty queen and an offshoot of Project MKUltra known as MONARCH.

As Jessica moves closer to the truth, she begins to suspect the involvement of everyone around her, including her own mother, Grethe (a Norwegian pageant queen turned occult American wellness guru for suburban housewives). With the help of Christine (her black-lipsticked riot grrrl babysitter and confidante), Jessica sets out to take down Project MONARCH. More importantly, she must discover if her first love, fellow teen queen Veronica Marshall, was genuine or yet another deep state plant.

Merging iconic true crime stories of the '90s (Lorena Bobbitt, Nicole Brown Simpson, and JonBenét Ramsey) with theories of human consciousness, folklore, and a perennial cultural fixation with dead girls, MONARCH questions the shadow sides of self-concept: Who are you if you don't know yourself?
paperback, March 7th 2023