Vendor- Clarkson Potter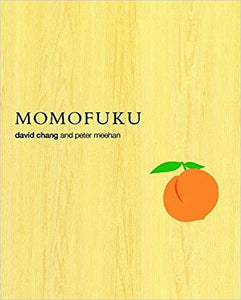 Momofuku: A Cookbook, by David Chang.
Clarkson Potter
Regular price $40.00 Sale
With 200,000+ copies in print, this New York Times bestseller shares the story and the recipes behind the chef and cuisine that changed the modern-day culinary landscape. 

Never before has there been a phenomenon like Momofuku. A once-unrecognizable word, it's now synonymous with the award-winning restaurants of the same name in New York City (Momofuku Noodle Bar, Ssäm Bar, Ko, Má Pêche, Fuku, Nishi, and Milk Bar), Toronto, and Sydney. Chef David Chang single-handedly revolutionized cooking in America and beyond with his use of bold Asian flavors and impeccable ingredients, his mastery of the humble ramen noodle, and his thorough devotion to pork. 

Chang relays with candor the tale of his unwitting rise to superstardom, which, though wracked with mishaps, happened at light speed. And the dishes shared in this book are coveted by all who've dined—or yearned to—at any Momofuku location (yes, the pork buns are here). This is a must-read for anyone who truly enjoys food.
Starred Review. Chang, master restaurateur and chef, and Meehan, a New York Times food writer, join forces in this stellar collection of recipes from Chang's restaurants—Momofuku, Ssäm Bar and Ko. Chang is a man possessed with a deep love of ramen and a clear passion for food. This book pays tribute to the humble noodle, which Chang has elevated to a near art form, and the wide array of cuisine he serves. Filled with 150 gorgeous, full-color photos and an engrossing narrative, this book is a treat for the eye, mind and palate. Chang's special touches are seen in every dish. Chicken wings are cooked with bacon in rendered pork or duck fat, and pan-roasted asparagus are adorned with poached eggs and miso butter. Fried (or roasted) cauliflower is drizzled with fish sauce vinaigrette, and roasted New Jersey diver scallops are served with kohlrabi puree and iwa nori. Of course, recipes for noodles abound, including Momofuku ramen, ginger scallion noodles, and Alkaline Noodles. Other staples include ramen broth, ramen toppings, and rice with miso soup. Be forewarned: Chang gears the cookbook to only the most experienced of cooks, with many dishes requiring several steps. Nevertheless, Chang presents a collection both stunning and engaging. 
Released October 27, 2009