Vendor- Tucker, Abigail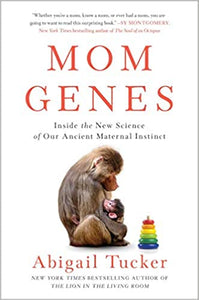 Mom Genes: Inside the New Science of Our Ancient Maternal Instinct
Tucker, Abigail
Regular price $28.00 Sale
From the New York Times bestselling author of The Lion in the Living Room comes a fascinating and provocative exploration of the biology of motherhood.

Everyone knows how babies are made, but scientists are only just beginning to understand the making of a mother. Mom Genes reveals the hard science behind our tenderest maternal impulses, tackling questions such as whether a new mom's brain ever really bounces back, why mothers are destined to mimic their own moms (or not), and how maternal aggression makes females the world's most formidable creatures.

Part scientific odyssey, part memoir, Mom Genes weaves the latest research with Abigail Tucker's personal experiences to create a delightful, surprising, and poignant portrait of motherhood. It's vital reading for anyone who has ever wondered what rocks the hand that rocks the cradle.
April 27, 2021