Vendor- Turner, Megan Whalen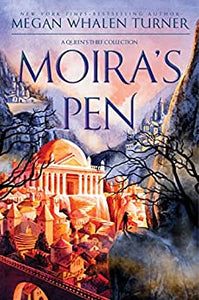 Moira's Pen
Turner, Megan Whalen
Regular price $18.99 Sale
This collectible companion to the New York Times–bestselling Queen's Thief series is ideal for longtime fans, as well as readers discovering Megan Whalen Turner's epic and unforgettable world for the first time. The collection includes all of the author's previously published short fiction set in the world of the Queen's Thief, as well as never-before-published stories, vignettes and excerpts, poetry and rhymes, a guide to objects from museums around the world that inspired the author, and a very special recipe for almond cake.
The kings and queens of Eddis, Attolia, and Sounis all make unforgettable appearances, as do beloved and surprising characters from throughout the series and beyond. Meet Eugenides as a young boy in "Breia's Earrings," and Irene as a young princess in "The Princess and the Pastry Chef."
The six novels in the acclaimed and bestselling Queen's Thief series are rich with political machinations, divine intervention, dangerous journeys, battles lost and won, power, passion, and deception. This collectible volume features illustrations and decorations throughout, illustrated endpapers, a stunning full-color jacket with embossed foil and gold stamping, a cast list, maps, and an introduction by the author. 
hardcover, Nov 1st 2022