Vendor- Worth, Katie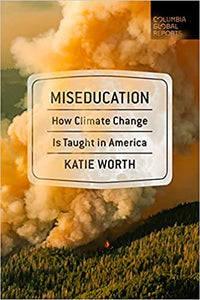 Miseducation: How Climate Change is taught in America
Worth, Katie
Regular price $16.00 Sale
Investigative reporter Katie Worth reviewed scores of textbooks, built a 50-state database, and traveled to a dozen communities to talk to children and teachers about what is being taught, and found a red-blue divide in climate education. More than one-third of young adults believe that climate change is not man-made, and science instructors are being contradicted by history teachers who tell children not to worry about it.
Who has tried to influence what children learn, and how successful have they been? Worth connects the dots on oil corporations, state legislatures, school boards, libertarian thinktanks, conservative lobbyists, and textbook publishers, all of whom have learned from the fight over evolution and tobacco, and are now sowing uncertainty, confusion, and distrust about climate science, with the result that four in five Americans today don't think there is a scientific consensus on global warming. In the words of a top climate educator, "We are the only country in the world that has had a multi-decade, multi-billion dollar deny-delay-confuse campaign." 
Miseducation
 is the alarming story of how climate denialism was implanted in millions of school children.